Description
Details
Focus on Sound is exciting new music education software for Windows®, Apple®Mac®, tablets and smartphones. It develops students' listening and composing skills as well as enhancing their general musical knowledge. Featuring hundreds of photos, recordings, music scores, videos and a fully integrated testing system, Focus on Sound provides two exciting multimedia software products: Instruments and Sound Words.
Developed for students aged 10 to 18, the Instruments section introduces the sound of musical instruments, voices and groups from all over the world, while Sound Words covers harmony, rhythm, structure, melody, instrumental techniques, technology and music theory.
With thoughtful assessment functionality, teachers are able to track progress online in real time, gaining full insight into students' strengths and weaknesses. Written by music education software specialist Dr. Simon Foxall, Focus on Sound will provide students with a complete musical foundation.
Instruments uses images, audio, notation and specially created videos to teach students about nearly 200 musical instruments and groups in the areas of rock, folk, jazz, classical and world music.
Sound Words covers more than 50 topic areas like jazz and rock harmony, pop song structure, Indian music structures and techniques, classical music styles, music technology and many more. Terms are defined using straightforward explanations, music notation, photos, diagrams and videos.
Thousands of randomized listening tests as well as a specialized quiz system help students identify the look and sound of instruments, chords, structures, rhythms and much more.
A complete lesson system now covers most of the topics.
More lessons and quizzes are added every week.
Provides detailed feedback to teachers on all aspects of the progress of individual students and classes.
Students have access to Focus on Sound anywhere they have an internet connection, enabling them to work from home, computer lab, or the library.
Teachers can choose to use the class-presentation mode, or allow students to work independently.
Expert guidance on which instruments students would be best suited to learn, with information on cost, difficulty and suitability
Instruments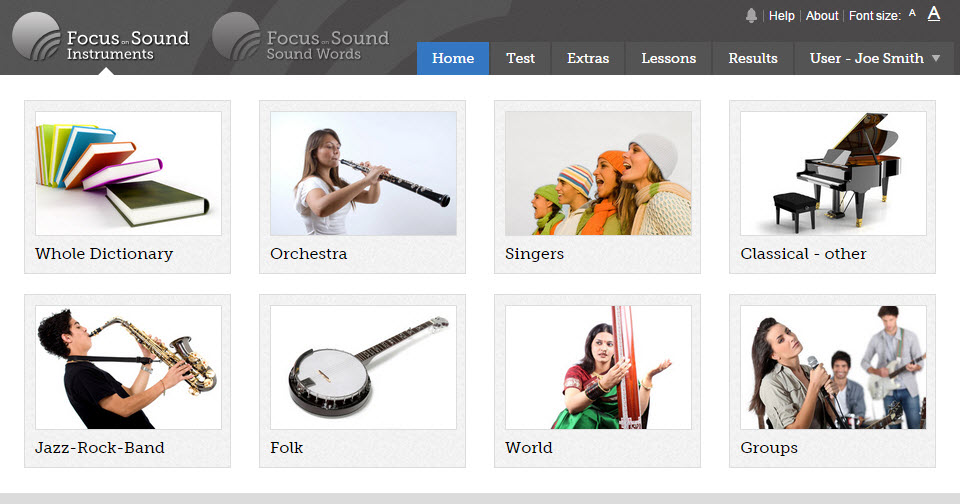 Above is the main topic screen of the Instruments app. The app introduces around 200 instruments and groups, in topic areas like World music, and subtopics like Africa.
A marvellous, affordable, and user-friendly listening resource. Pupils find it easily accessible via mobile, tablet or PC at any time of day (or night, if set homework tasks). I would warmly recommend this excellent software to all departments. - John McGonigle, Director of Music, Dollar Academy, Scotland
Sound Words
The Sound Words app has around 700 terms, arranged in the topics you see below. Each topic has a series of subtopics like tempo or pop song structure.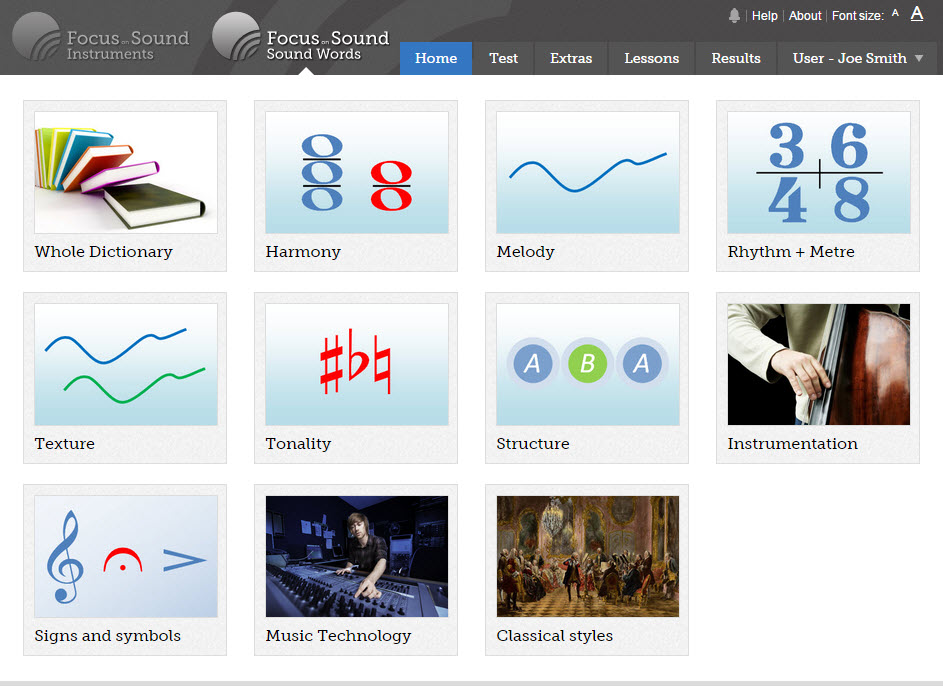 The kids really enjoy it and so do I - Ryan Lester - Testbourne Community School
Instruments and Terms
Each instrument and term has up to five pages of description, with photos, diagrams and recordings.
The flute has four pages of main content and three more on the jazz flute.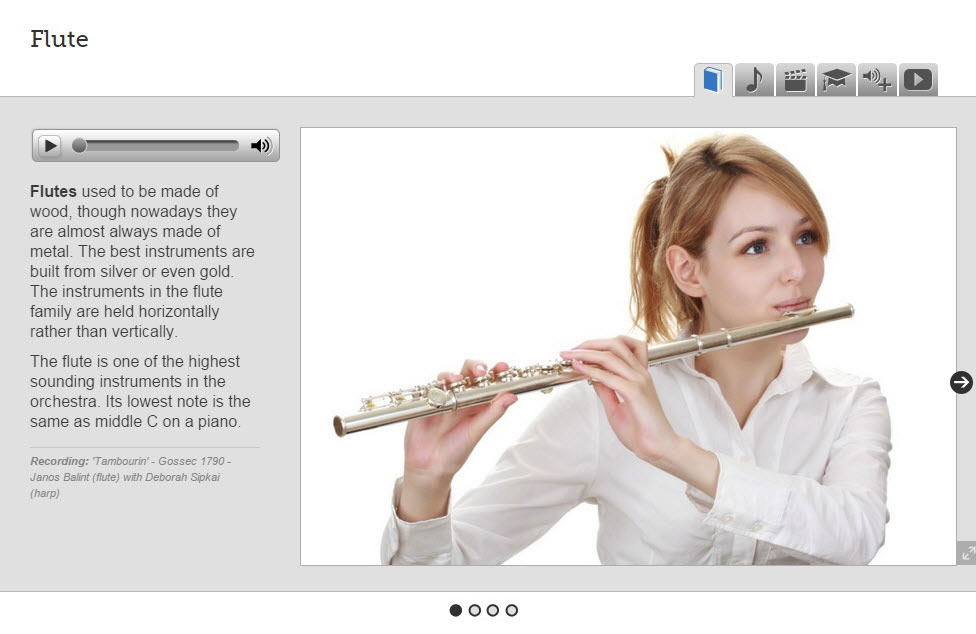 What fabulous resources you have created. The quality of the descriptions, examples, pictures and videos is excellent. Everything works easily both on computer and on my iPhone. Superb! - David Beeby, Poole Grammar School
Tabs
Here's what the tabs do: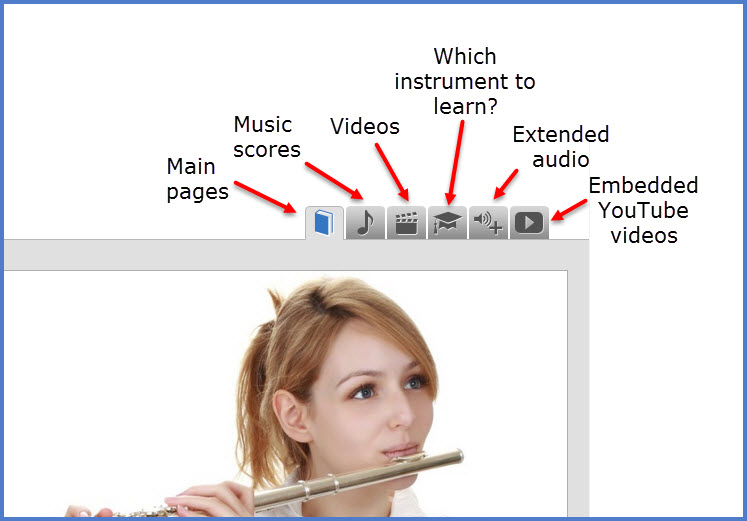 A landmark resource . . . . none of the apps I have seen so far come close - David Ashworth, Teaching Music website
Testing
Tests and quizzes are at the heart of the software. There are unlimited randomized tests and quizzes - each time the user takes the test the questions will be different. Here's part of a simple identification test from Instruments. Questions start off easy, with both sounds and pictures. Later it gets more difficult.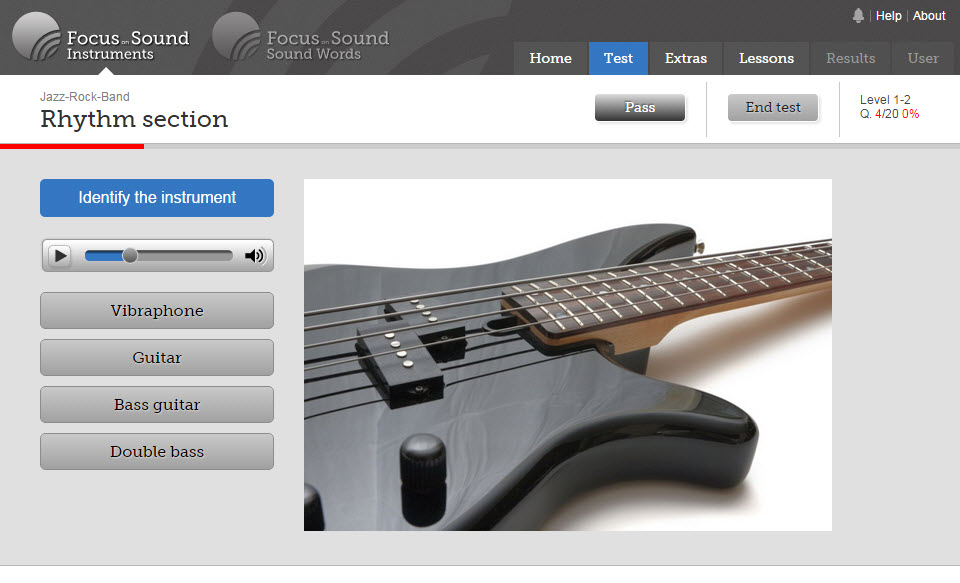 Very easy to use. . . . an excellent resource - John Hall, Ashford School
Here's a question from one of our 'Extras' tests in Instruments. These tests are fixed (i.e. not randomized).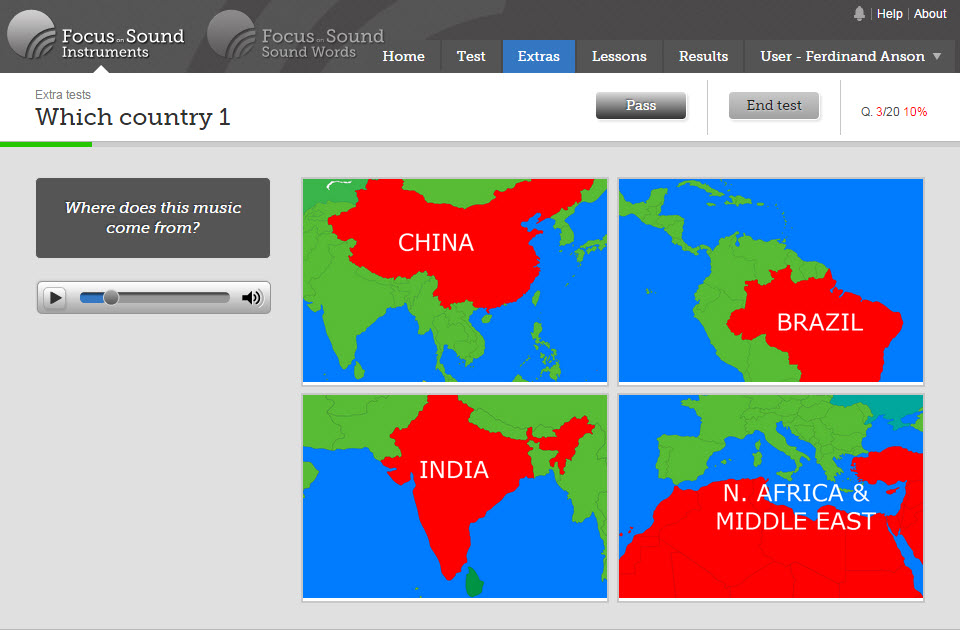 Here's a question from one of our 'Extras' tests in Sound Words.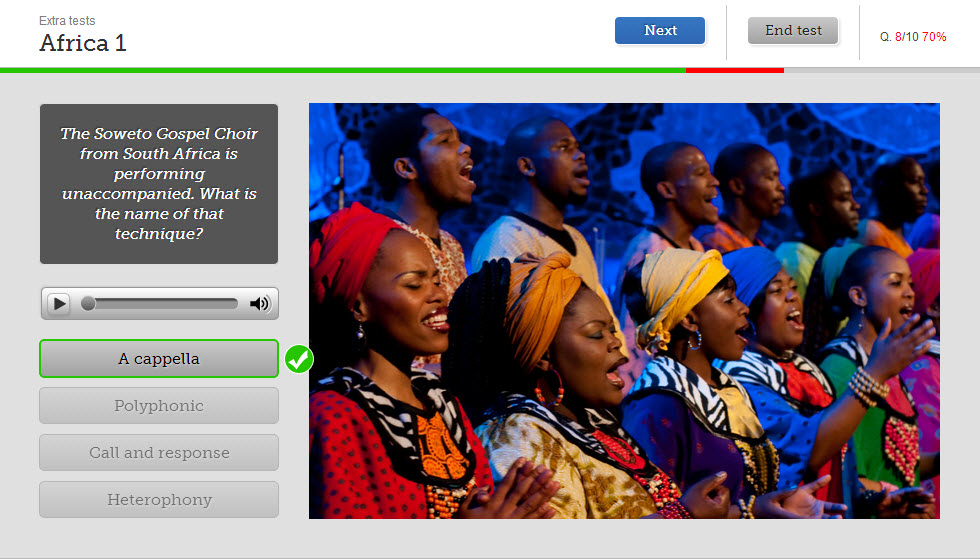 Focus on Sound has changed the way music homework is done. The kids and I find it so accessible and easy to use.
Maria Gilmartin, Wimbledon College, London
Class demonstration mode
There's also a class demonstration mode for tests. This is ideal for whiteboards, smartboards and large screens. Kids can write down answers or give a spoken answer. Here's an example from Sound Words: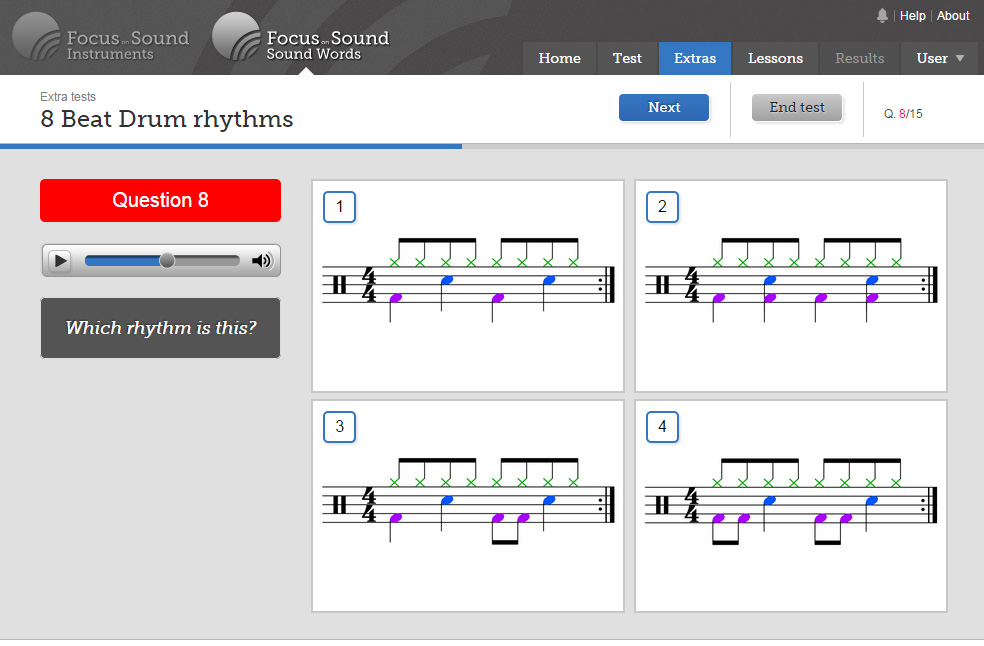 The students are really enjoying using it. It is brilliant for all year groups - Sarah Neville, Hollyfield School, Kingston
Typed comparison questions
This is one of the newer types of question in Focus on Sound. The student is asked to use music terminology to compare two different recordings. The teacher can then see the answers written by the whole class from the Results page. Students can return to their answers to edit them further.
Teachers could also use these tests for class discussion.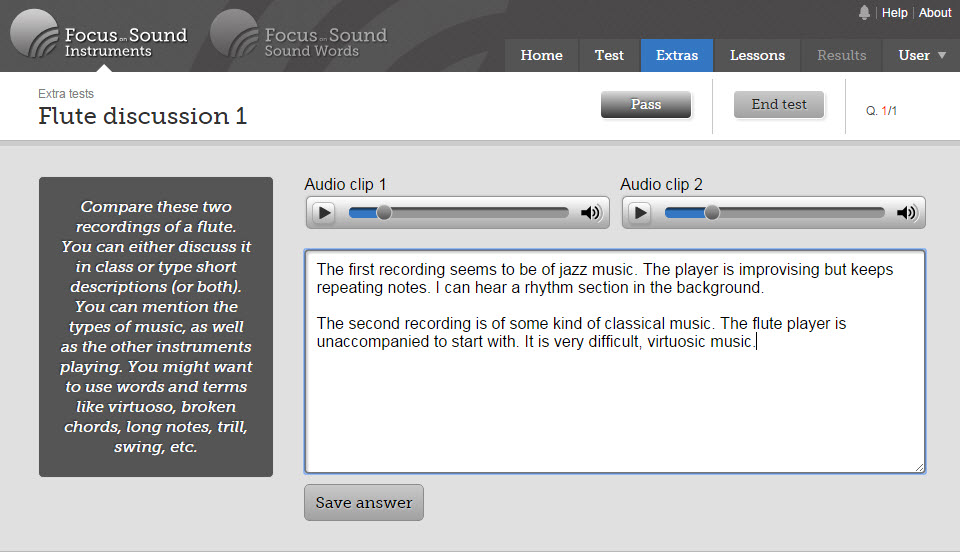 Your software is absolutely brilliant - Matt Allen, Chessington Community College
Video Discussion/Writing
Here's another new type of question for class discussion or writing. The student can save the answer, edit it later, then the teacher can see what he/she has written.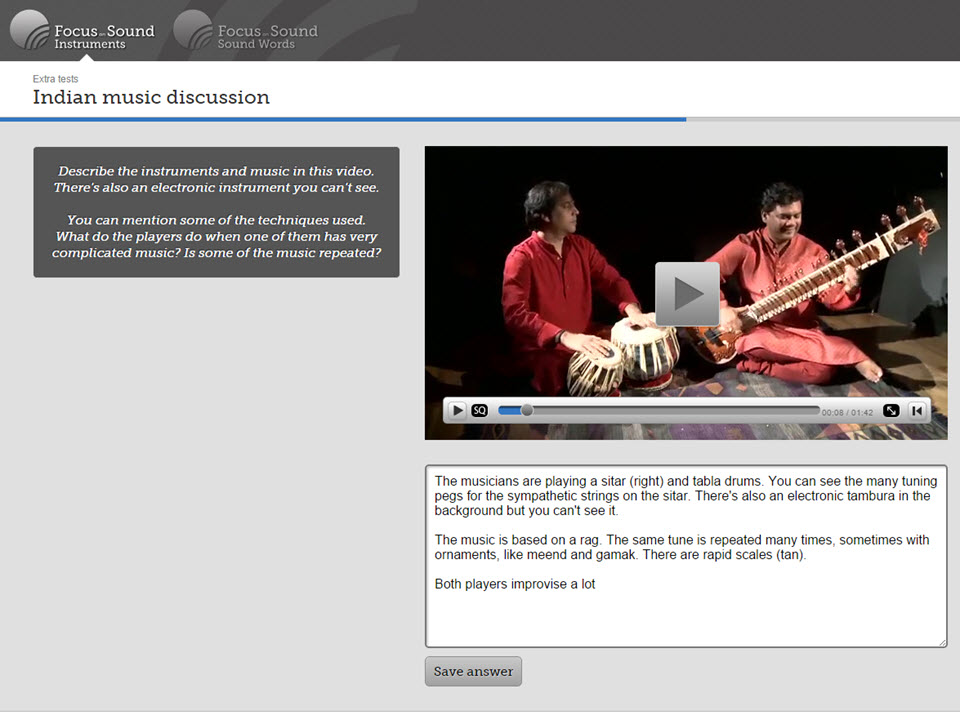 Results
As soon as a student has completed a test or quiz the teacher can see their results.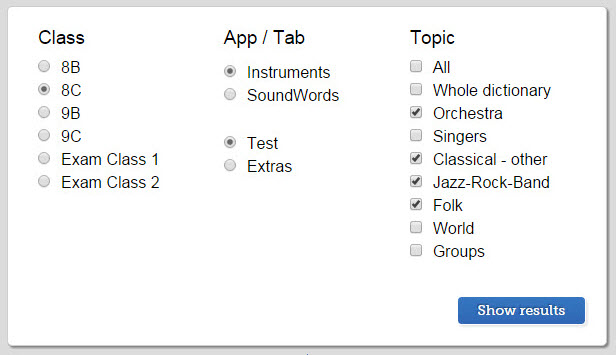 The results pages display the number of tests taken, the most recent date and time a test was taken, as well as percentages in all the different tests and quizzes. Notice also the total and average columns. Class results can be exported to spreadsheets. Individual result sheets can be printed.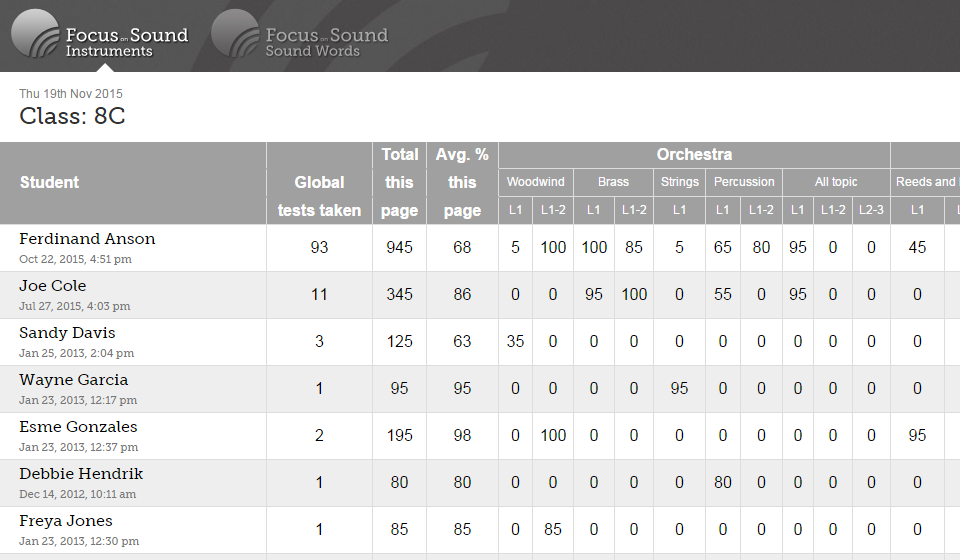 My A level and GCSE students love the programme. Positively waxing lyrical about it! It's such a good resource for them – the harmony stuff in particular - Joanna Korzinek (Challoners High School)
Music notation
In addition to hundreds of short music notation examples in Sound Words, there is a large set of music scores, often lasting many pages. The position in the score is marked by a red dot (see below). Page changes are automatic. The better the screen resolution, the better the display. These music scores look especially good on 'retina' screens.
There is a complete course on music reading in Focus on Sound.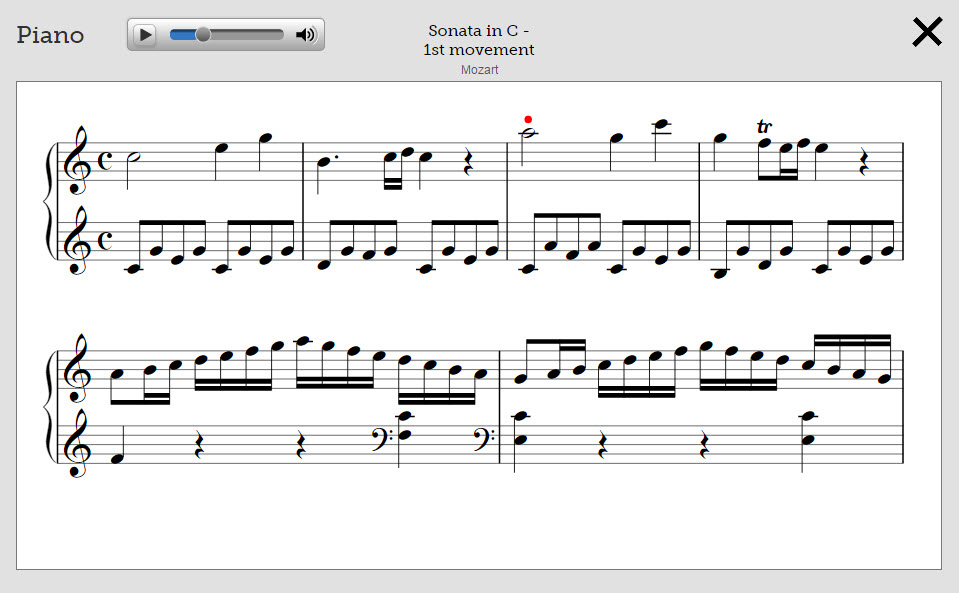 Learning advice
All the more popular instruments have advice on learning the instrument - this is especially aimed at the young musician deciding what instrument to learn. The expert advice is also useful for parents to read, so that they can understand what is involved in learning and buying a particular type of instrument.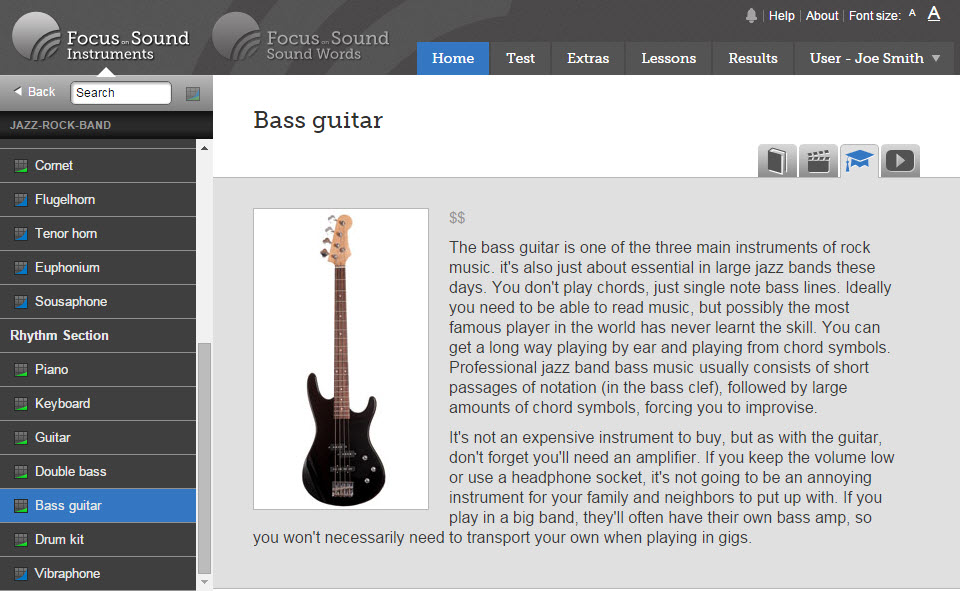 Lessons
Lessons combine elements from the two programs. They all end with a quiz or assessment. There are over 120 lessons so far. Each can be used as a basis for a lesson in front of a class - or for individual use at school or at home.
Here is the main lesson topic page. New lessons are added regularly, so this group of main lesson topics could already be out of date.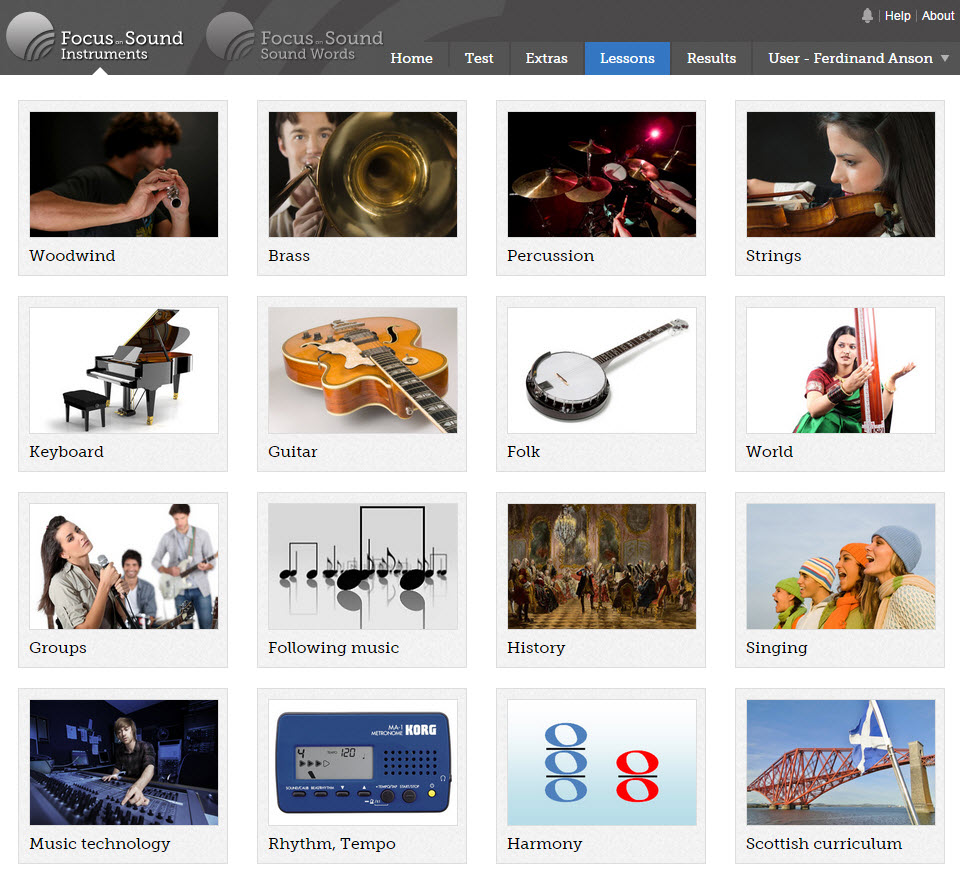 Each lesson covers a number of areas (see the list of topics in a lesson on the drum kit below). Sometimes there won't be time to cover everything in a single class lesson.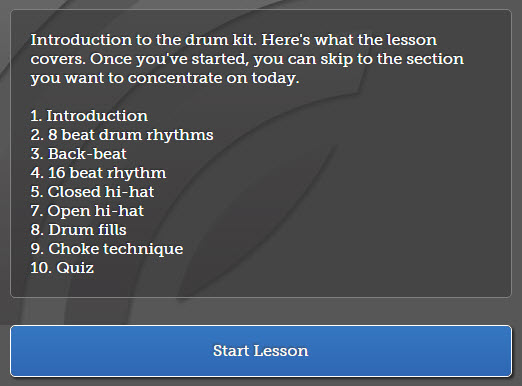 Activities
A new part of Focus on Sound is the introduction of activities like rhythm clapping, chord playing, etc.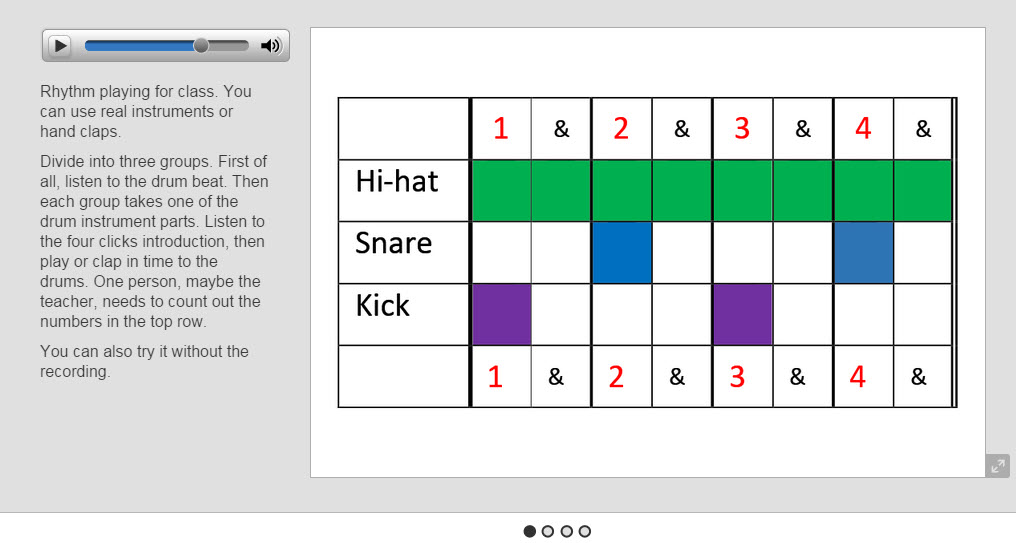 Here's a chord playing exercise for classes with keyboards.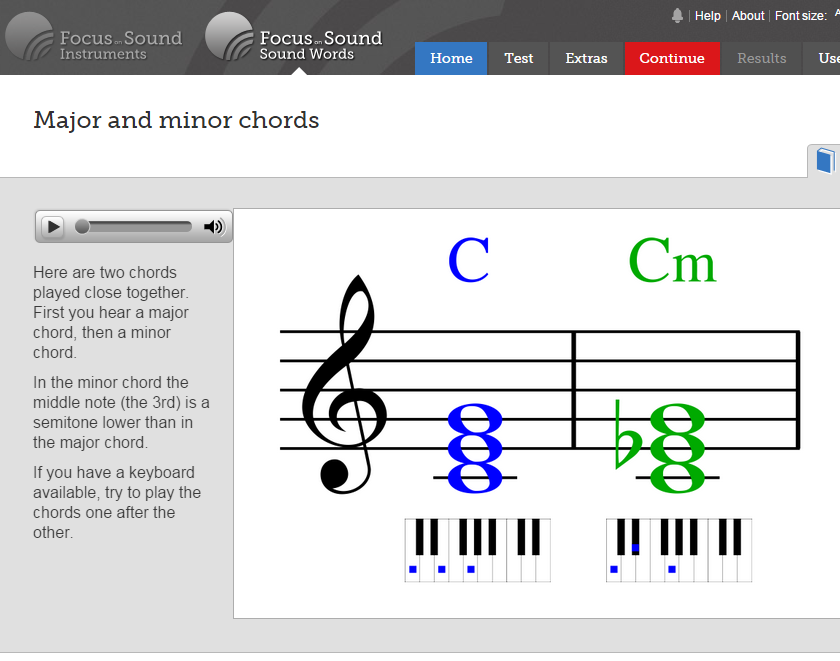 World music
World music is one of many specialities of Focus on Sound. We have top international performers demonstrating a wide range of instruments and techniques. Musicians include a master drummer from Ghana, a multi-instrumentalist from Brazil and world renowned sitar and tabla players from India.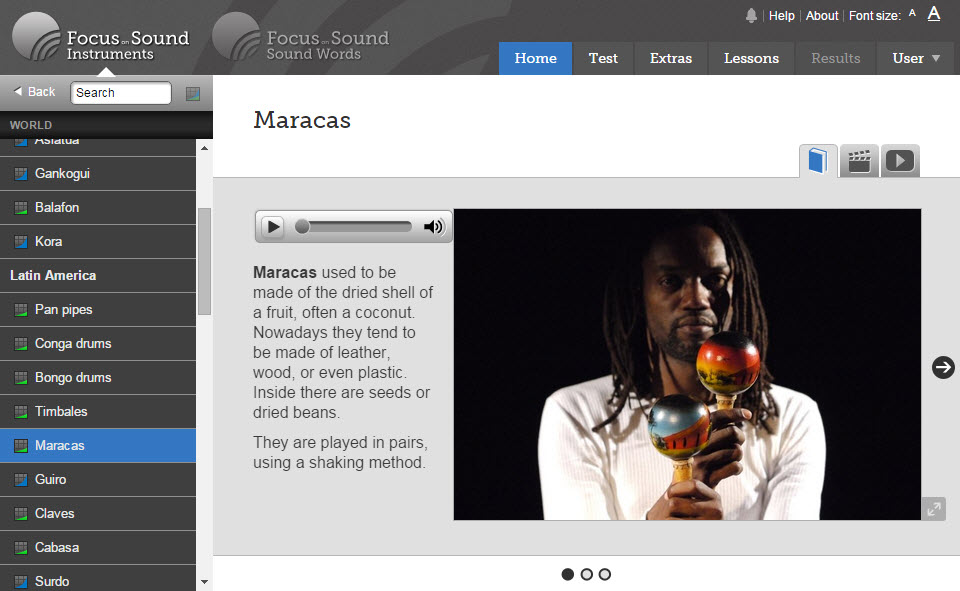 Music technology
We have engaged a top composer of film and TV music music to write our section on music technology. This covers topics like filters, reverb, delay, compression, modulation, etc.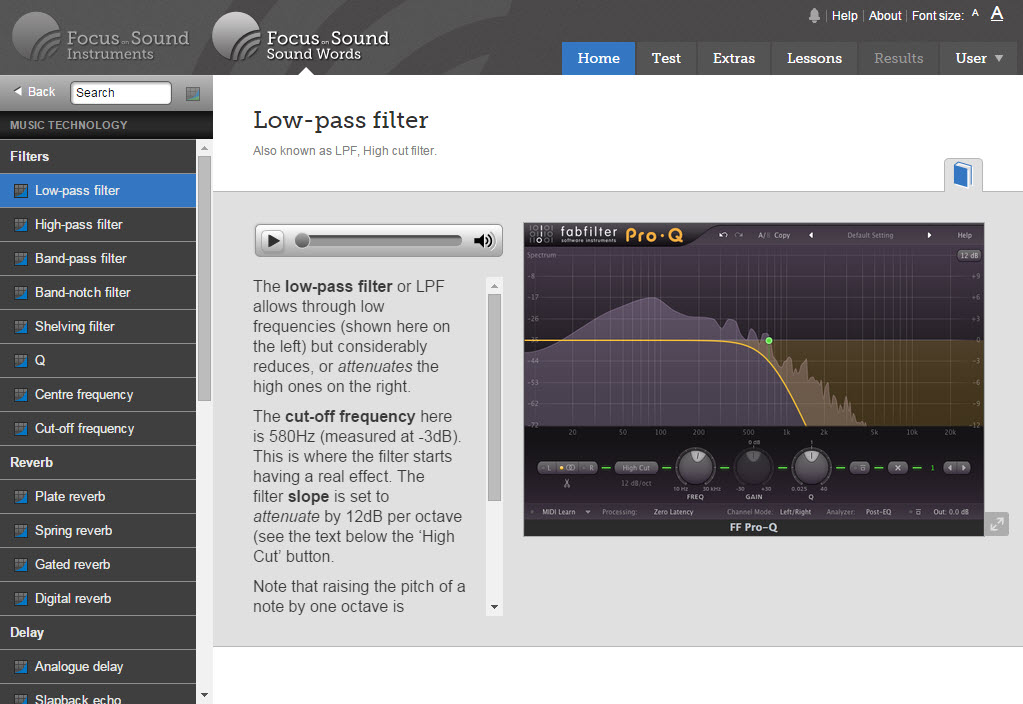 Advanced study
We have all kinds of material for the advanced student, aged 16-18 and beyond. Here's an example. It's a complete sonata form movement in 'short score'. The page changes with the music, and there's a full analysis of the main sections and keys.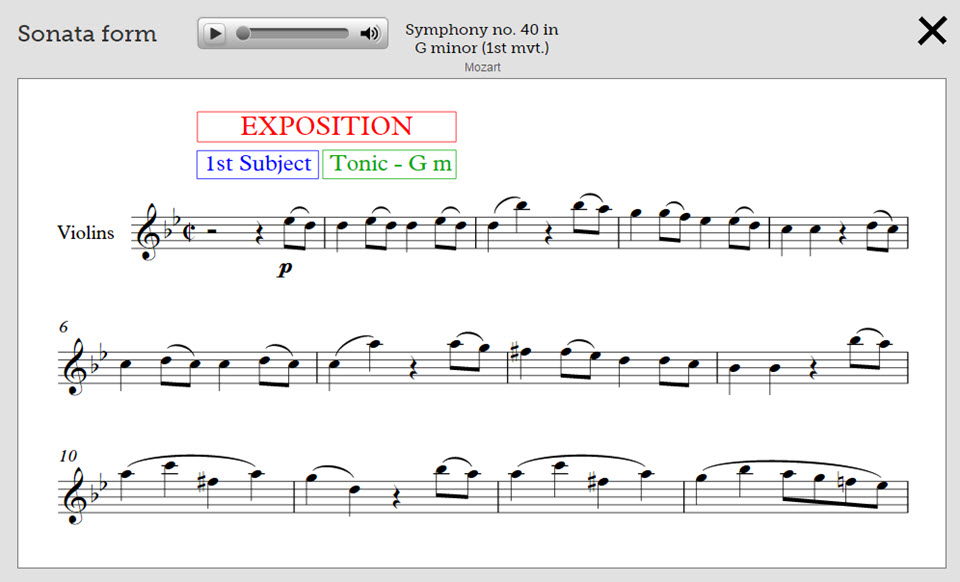 Product Details
Product Details
| | |
| --- | --- |
| Platform | Hybrid (Mac and PC) |
| Manufacturer | MusicFirst |
Reviews
Tags
Questions? Answers!
Not What You Are Looking For? View other products in this category:
Web-form is not active.